Travelers, fishing enthusiasts, and seasoned adventurers preparing to take an unforgettable journey to the sunny city of Puerto Vallarta, this one's for you. The Puerto Vallarta Fishing Calendar should be an integral part of your planning. Just as the stunning sandy shores lure the beach lovers, the sparkling Pacific waters of Puerto Vallarta teem with an incredible variety of game fish, offering a fascinating adventure for anglers. But knowing the best time to cast your line for specific species is essential. That's where our Puerto Vallarta Fishing Report comes in, guiding you on when and where to venture for the best catch of the day.
From the thrill of Fly Fishing in Puerto Vallarta to waiting patiently for the mighty Marlin, Puerto Vallarta is a fisherman's paradise, offering year-round opportunities to reel in the big one. But as every seasoned angler knows, certain times of the year are ideal for specific species. This is why an understanding of the fishing calendar is essential to planning your fishing adventure. So whether you're an old hand at casting the line, or this is your first fishing voyage, the Puerto Vallarta Fishing Calendar 2023 is your compass to navigate these fertile fishing waters.
"The charm of fishing is that it is the pursuit of what is elusive but attainable, a perpetual series of occasions for hope." – John Buchan
Stay with us, as we take a deep dive into the Puerto Vallarta Fishing Calendar for 2023, showing you the best times to fish for Marlin, Sailfish, Tuna, or Mahi Mahi. Anglers, prepare your gear, the Puerto Vallarta waters are waiting!
The Best Time to Fish in Puerto Vallarta, Mexico
Whether you're an experienced angler or new to fishing, knowing when to cast your lines can make all the difference. So when is the best time to fish in Puerto Vallarta, Mexico? It's a year-round destination, but some months definitely offer higher chances of a rewarding catch.
Understanding the Fishing Seasons in Puerto Vallarta
If you're planning a fishing trip to Puerto Vallarta, it's important to understand the fishing seasons to make the most of your visit. The lush waters here offer different bounty all year round, but knowing when to come for your favorite fish can be the cherry on top of your excursion!
In Puerto Vallarta, the fishing season varies for different species. From Mahi Mahi to Jack Crevalle, every fish has its time to shine.
However, if you are looking to catch Mahi Mahi and Marlin, the season is best from September until February. Other fish, such as sailfish, Jack Crevalle and giant Yellow fin tuna, can be caught year round.
Planning Your Fishing Trip to Puerto Vallarta in 2023
If you're contemplating a fishing expedition in Puerto Vallarta in 2023, here's some helpful information to get you started. Puerto Vallarta, a utopia for fishing enthusiasts, offers a bounty of fishing opportunities all year round. To make the most of it, you need a well-drafted plan. Here's how you can plan your ideal fishing excursion:
Understand the Puerto Vallarta Fishing Calendar
Puerto Vallarta's rich waters are home to an array of marine life throughout the year. However, understanding the Puerto Vallarta Fishing Calendar can help you target specific species during your visit. This invaluable boatload of information provides an insight into the best times to fish for different species.
Keep an Eye on the Puerto Vallarta Fishing Report
While planning your fishing trip, the Puerto Vallarta Fishing report can be an exceptional tool. Regularly updated, these reports provide a snapshot of what's currently happening in the water. From fishing hot spots to trending species, these reports can greatly boost your catching opportunities.
Consider Fly Fishing in Puerto Vallarta
If you're a fly fishing aficionado or want to try something novel and invigorating, then Fly Fishing Puerto Vallarta might just be your thing. Puerto Vallarta's tranquil rivers and lagoons provide the perfect ambiance for fly fishing. But remember, the success of fly fishing largely depends on the season, so make sure you plan accordingly.
Expert Tips for Successful Fishing in Puerto Vallarta
Prepare to transfrom your fishing experience in Puerto Vallarta with some expert advice. Puerto Vallarta is a dream destination for anglers, but knowing the right techniques can significantly increase your chances of a successful outing. Let's dive deeper, shall we?
1. Know Your Gear inside and out
Equipments largely determine your fishing success. Different gear suits different species, so you must be well-versed with your tools. A complete understanding of the types and uses of fishing gear will put you on the right path.
2. Master the Art of Timing
The secret to maximizing your fishing efforts in Puerto Vallarta is not just about having the right gear, but also fishing at the best times. Imagine dropping your line in Puerto Vallarta's inviting waters and waiting for that exciting nibble? But when's the best time to do so, you wonder? Some of the best times to have your lines in the water is an hour before low tide and a few hours after high tide.
Tip 3: Know the Best Fishing Spots in Puerto Vallarta
While timing is key, so too is knowing the prime locations for your catch. Just like each fisherman, every fish prefers certain environments and depths. Furthermore, different species are often found in various parts of the Puerto Vallarta waters depending on the season. This means landing the big one often requires a keen sense of where to cast your line. Here are the top fishing spots in Puerto Vallarta to remember:
For Big Fish: El Moro, La Corbetena, and El Banco.

For Small fish under 20 lbs, you might want to go inside Banderas Bay

If you want to catch the biggest fish, and have the bragging rights to your friends, you need to go to offshore locations such as Marietas, or the Marias islands.
Top Fishing Charters in Puerto Vallarta
If you're planning a fishing adventure in Puerto Vallarta, it's essential to book a top-notch fishing charter – a team to guide you to where the fish are swimming and help you reel in a big catch. Let's take a look at some of the top-recommended fishing charters for 2023:
Puerto Vallarta Sportfishing
On the other hand, Puerto Vallarta Sportfishing offers not just deep sea fishing trips but also tours ideal for fly-fishing enthusiasts. This charter is well-known for its knowledgeable guides and great equipment.
Mike's Charters & Tours
Whether you choose a half-day or full-day tour, Mike's Charters & Tours ensures an experience packed with fun, fishing, and unforgettable memories. The charter focuses primarily on sustainability and respect for the marine life.
Master Baiter's
A popular charter with a humorous name, Master Baiter's offers a variety of fishing trips designed for all skill levels. They also have a catch-and-release policy to promote the preservation of marine species.
Fishing in Puerto Vallarta can be an exciting adventure, and booking a top-rated charter can make all the difference. Start planning your trip today.
In addition to securing a great fishing charter, you might also want to familiarize yourself with the Puerto Vallarta Fishing Calendar for the best times to catch species unique to this region. Combine the professional guides' expertise with the ideal timing for certain fish, and you're all set for an unforgettable sea adventure.
Frequently asked questions about the Puerto Vallarta Fishing Calendar
Can you fish from shore in Puerto Vallarta?
Yes, you certainly can! Fishing from the shoreline of Puerto Vallarta is not only permissible, but it's also highly popular among locals and tourists alike. However, for the best experience, you'll want to make sure you're well-informed about the optimal times and locations for shore fishing in this region.
There are several prominent spots worth exploring if you opt for shore-based fishing:
The Malecon: Perfect for an early morning or late evening fishing excursion, due to its prime location and thriving fish life.
Rio Cuale Island: A unique spot where the river meets the ocean, offering you a great array of fish species.
Los Muertos Beach: Esteemed among locals for fishing, especially during sunrise and sunset.
Please bear in mind that while shore fishing, it's critical to respect the local marine life and ecosystems. It's also worth noting that individual species have specific restrictions on when they can be fished, so make sure to check the Puerto Vallarta Fishing Calendar beforehand.
Puerto Vallarta Fishing Calendar 2023
Now let's take a look at what you can expect from the Puerto Vallarta Fishing Calendar in 2023:
| Month | Fish Species |
| --- | --- |
| January – February | Snapper, Roosterfish |
| March – May | Yellowfin Tuna, Marlin |
| June – August | Sailfish, Dorado |
| September – December | Bonito, Wahoo |
Remember that this fishing report is just a guide. Fishing conditions can change due to various factors, including weather and water temperature. Always check the updated Puerto Vallarta Fishing report before planning your fishing trip. Also, if you are into fly fishing, you'll be glad to know that Fly Fishing Puerto Vallarta is absolutely fantastic, offering ample opportunities to catch sailfish, roosterfish, and more.
Is fishing better in Cabo or Puerto Vallarta?
When it comes to fishing, both Cabo and Puerto Vallarta offer unique experiences, but if your preference lies in diversity, Puerto Vallarta might be your pick. The Puerto Vallarta Fishing Calendar 2023 illustrates an amazing array of species throughout the year. From Tuna, Marlin, and Sailfish, to Roosterfish and Jack Crevalle, the wealth of opportunity for Fly Fishing in Puerto Vallarta sets it aside. Plus, the Puerto Vallarta Fishing report shows consistent positive feedback from fishing enthusiasts.
Do I need a license to fish from shore in Puerto Vallarta?
If you're wondering, "Do I need a license to fish from shore in Puerto Vallarta?", you're not alone. Many new and even seasoned anglers often ask this question.
In response: Yes, you do. Regardless if you plan to fish from the shore or a boat, you need a valid Mexican fishing license. Catching anything from the waters of Puerto Vallarta without one can result in heavy penalties. It's also important to note that the license covers only the person who it's issued to.
Obtaining the license is relatively straightforward. You can acquire it online prior to your trip or at local tackle shops in Puerto Vallarta. The Conapesca office in Puerto Vallarta also issues fishing licenses. Always remember – fishing without the license is considered illegal and can result in heavy fines.
Also, keep in mind the following:
The license does not allow for fishing within any of the country's marine parks.
The license is valid for one year starting from the date of issue.
Children under the age of 10 don't need a license if fishing from the shore.
Those fishing without a rod in the water (i.e. handline fishing) do not need a license.
So, to ensure a trouble-free fishing experience in Puerto Vallarta, ensure to arm yourself with a valid fishing license. It's a small price to pay for enjoying the rich and diverse marine life that Puerto Vallarta waters have to offer.
Can you go deep sea fishing in Puerto Vallarta?
Absolutely! If you're looking for an engaging and truly memorable fishing experience, Puerto Vallarta should be at the top of your list. Deep-sea fishing in beautiful Puerto Vallarta is not just a task, it's an immersive adventure featuring some of the most exquisite and bountiful marine life in the world.
Here are some key highlights:
Species Extravaganza: Whether you are a novice fisherman or a seasoned expert, Puerto Vallarta's deep waters are home to a variety of species to challenge and delight you. Expect to find billfish like Sailfish and Marlin, swarms of Mahi-Mahi, and even the elusive Yellowfin Tuna.
Dedicated Tours: The city is brimming with experienced and friendly tour operators who offer fully-equipped fishing charters suitable for all experience levels.
Fantastic Conditions: The geography, climate, and ocean currents combine to create an ideal environment for deep-sea fishing in Puerto Vallarta.
But don't take our word for it. Let's see what some of the satisfied fishermen have to say:
"Puerto Vallarta is a paradise for deep-sea fishing enthusiasts. The variety of species, knowledgeable guides, and overall environment make it a top-notch destination."
In summary, yes, you can go deep sea fishing in Puerto Vallarta. It's a delightful experience that combines the thrill of the catch with the beauty of one of Mexico's most stunning destinations.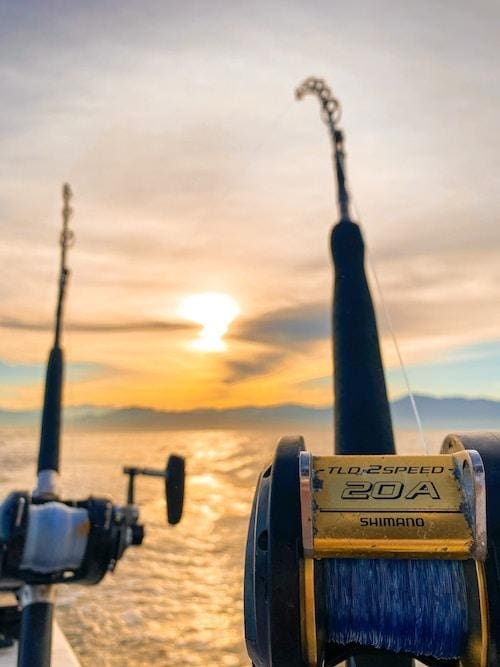 How much does it cost to go deep sea fishing in Puerto Vallarta?
Planning a deep-sea fishing trip in Puerto Vallarta? Costs can vary according to several factors such as the length of your trip, type of boat, and services included. But don't worry, we'll provide you with an estimated range to help you plan your journey. Keep in mind, these are approximations and may fluctuate based on the particular charter service.
| Type of Service | Estimated Cost |
| --- | --- |
| Half Day Charter: | Approximately $400 – $700 USD |
| Whole Day Charter: | Around $700 – $1200 USD |
| Luxury Yacht Charter: | As much as $2000 – $5000 USD |
These expenses typically cover bait, tackle, and gear. The boat's crew can also help you with baiting hooks and even cleaning the fish you catch. Keep in mind that gratuities for the crew are not usually included in the charter fee.
Note: Additional charges may occur for exclusive services like food, beverage or special requests. Always verify the inclusions and confirm rates with your charter service to avoid unexpected costs.
Now, let's fish! Remember, there's a variety of options to suit your needs and budget when it comes to deep sea fishing in Puerto Vallarta. Happy fishing!
What fish are caught in Puerto Vallarta?
When your fishing line descends into the brilliant sapphire waters of Puerto Vallarta, you never know what might be on the end when it re-surfaces. The richness of marine life in this area allows both novice and experienced anglers the thrill of catching a wide variety of fish.
Puerto Vallarta's fishing report commonly includes the following species:
Marlin: Including Black, Blue, and Striped Marlin
Sailfish: Known for their spectacular leaps and fights
Tuna: Including Yellowfin Tuna, one of the largest varieties
Dorado (Mahi Mahi): Famous for their speed and bright colors
Roosterfish: Recognizable by their distinctive comb
Snapper: Red and Cubera Snapper are both abundant
Do note that fly fishing in Puerto Vallarta can add a unique spin to catching these species, providing a fresh challenge even for experienced anglers.
Now, while these are common catches, the actual species you might hook can depend on the season. Remember that the Puerto Vallarta fishing calendar for 2023 varies, just like any other year.